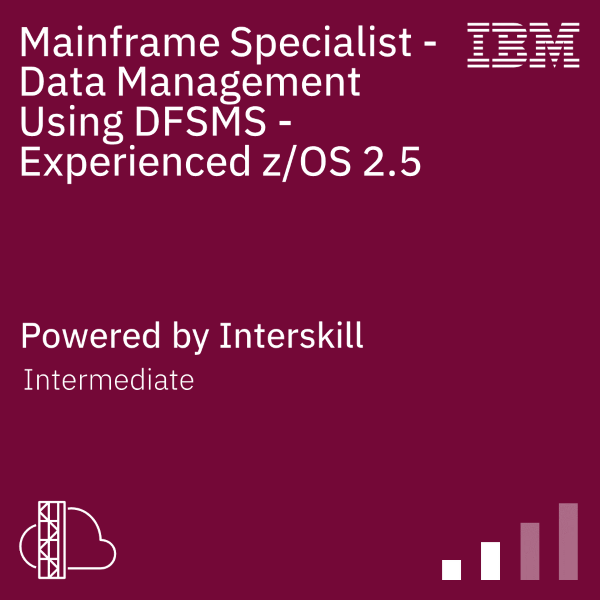 This badge holder can describe how various aspects of data need to be managed, and the role played by DFSMS in a z/OS z/OS 2.5 environment. They can display and define data, management and storage class constructs using ISMF, and create automatic class selection routines. The badge earner can also describe how DFSMShsm is used for data backups, dumps and migration, and how DFSMSrmm is used for tape management.
Earning Criteria
Storage – Introduction to Storage and Disk Systems z/OS 2.5
Storage – Understanding Tape Storage z/OS 2.5
Storage – Managing z/OS Data Using DFSMS Constructs z/OS 2.5
Storage – Storage and Tape Administration Using DFSMShsm and DFSMSrmm z/OS 2.5
Total Estimated Hours: 14
Badge Skills Tags: Automatic Class Selection Routines, SMS, DFSMShsm, DFSMSrmm, ISMF, SMS Constructs, Storage Administrator, Systems Programmer, z/OS, z/OS 2.5


Earn this IBM Digital Badge
If you or your organization does not currently have access to Interskill online mainframe training:
Note:
IBM digital badges are provided by IBM at no cost and awarded for a variety of achievements.
The training required to earn this specific IBM digital badge requires access to Interskill's industry leading online mainframe training.
Please check with us, as your company may already have access to this mainframe training resource.