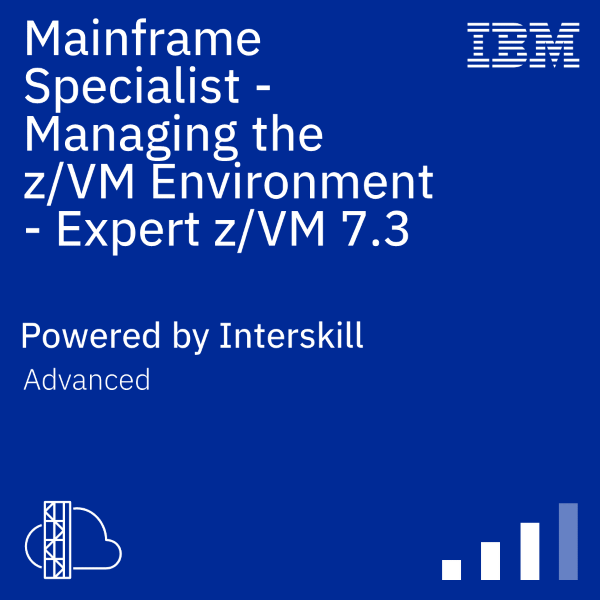 This badge holder can explain the purpose of the z/VM operating system, its components, and how it is used by organizations. The individual can display, monitor, and manipulate the z/VM system and resources, manage guest operating systems, and perform high level backup, recovery and system performance tasks. The earner can identify the tools and methods used for problem resolution, identify and resolve general user and DASD problems, and identify tools used for z/VM backup and recovery.
Earning Criteria
z/VM – Introduction and Concepts z/VM 7.3
z/VM – System Initialization and Shutdown z/VM 7.3
z/VM – Monitoring and Controlling z/VM Operations z/VM 7.3
z/VM – Managing Guest Operating Systems z/VM 7.3
z/VM – Managing CMS Files z/VM 7.3
z/VM – Identifying and Resolving z/VM Problems z/VM 7.3
Total Estimated Hours: 24
Badge Skills Tags: CMS, CP, Computer Operator, Guest System, Systems Programmer, Virtualization, XEDIT, z/VM

Earn this IBM Digital Badge
If you or your organization does not currently have access to Interskill online mainframe training:
Note:
IBM digital badges are provided by IBM at no cost and awarded for a variety of achievements.
The training required to earn this specific IBM digital badge requires access to Interskill's industry leading online mainframe training.
Please check with us, as your company may already have access to this mainframe training resource.