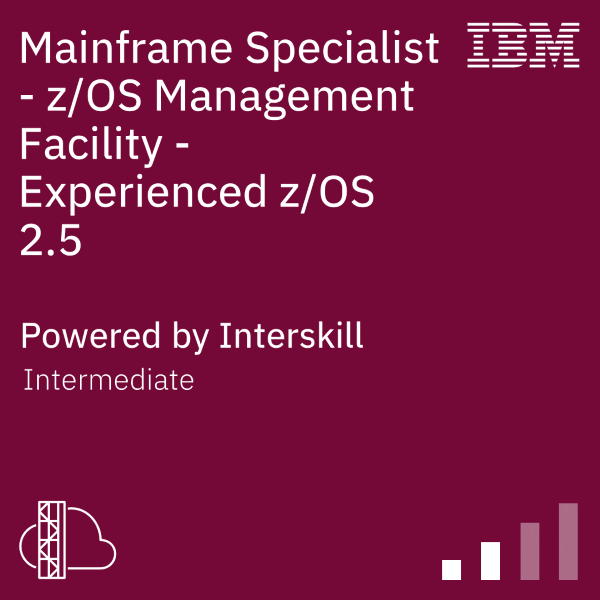 This badge earner can log into the z/OS Management Facility (z/OSMF) and describe how workflows are used within this product. They can use z/OSMF to display Workload Manager status, definitions and policies, describe capacity provisioning functions that are available, and explain how cloud services can be provisioned. This person can also use z/OSMF to monitor system performance, and manage and deploy system software.
Earning Criteria
z/OSMF – Introduction and Basics z/OS 2.5
z/OSMF – Working with z/OSMF Tasks z/OS 2.5
z/OSMF – Configuring and Administering z/OSMF z/OS 2.5
Total Estimated Hours: 8
Badge Skills Tags: Capacity Provisioning, Cloud Provisioning, Performance Monitoring, System software deployment, Workflows, Workload Management, Resource Monitoring, SMP/E, z/OS Management Facility, z/OSMF


Earn this IBM Digital Badge
If you or your organization does not currently have access to Interskill online mainframe training:
Note:
IBM digital badges are provided by IBM at no cost and awarded for a variety of achievements.
The training required to earn this specific IBM digital badge requires access to Interskill's industry leading online mainframe training.
Please check with us, as your company may already have access to this mainframe training resource.