Interskill Learning now offers advanced, hands-on mainframe training! Ready-to-use, guided, hands-on mainframe exercises available in a dedicated training 'sandbox' on your mainframe system!
Offering your organization an ultra-low-cost alternative to expensive, external labs, and a minimal-effort alternative to the tedious work of developing your own labs!
Your system programmer creates a dedicated training sandbox on your mainframe system, and loads these curriculum-mapped, hands-on, advanced mainframe training exercises into it.
It's as simple as that! As each specific Lab is needed by the learner, their Coach or Manager activates it and the learner's own personalized Mainframe Lab exercises are ready to use!
Importantly, there is no limit to the number of your mainframe personnel that can simultaneously complete priceless, hands-on, mainframe training! Minimal setup, minimal cost, maximum training!
Here's How it Works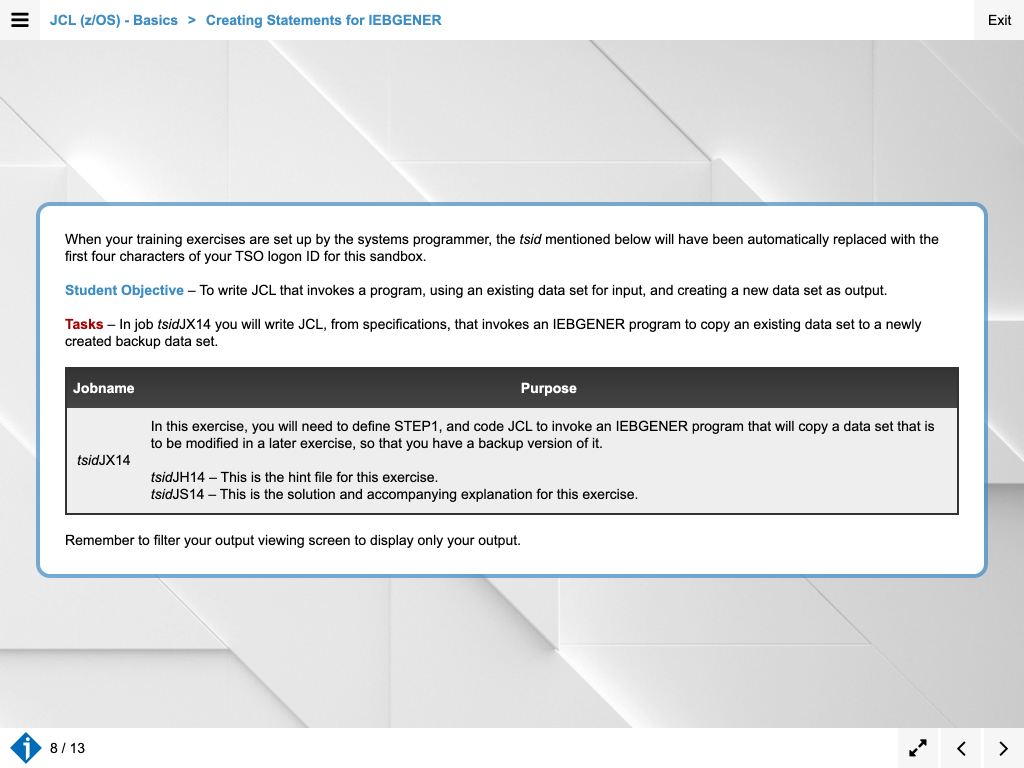 The elearning module (in this example JCL) guides the learner, step-by-step, through each of the Lab Exercises on the mainframe. Importantly, these Sandbox Exercises are designed to be self-supporting and not need a busy coach or manager's assistance.
Using the skills and knowledge gained from prerequisite elearning courses, the learner works through the advanced, hands-on mainframe exercises.
The ability to try, fail, solve, discover and experience builds the learner's skills, proficiency and confidence in their mainframe job role.
Exercises are self-supporting and do not need a coach. Hints and Solutions are readily available if the learner has difficulties.
The last exercise in the last module of each topic even teaches good housekeeping habits. It is a "cleanup" exercise to remove any output created during the live training.