The new MyInterskill Learning Management System is a modern online mainframe training portal. Be sure to checkout the "What's New on MyInterskill" for the latest in feature and content updates!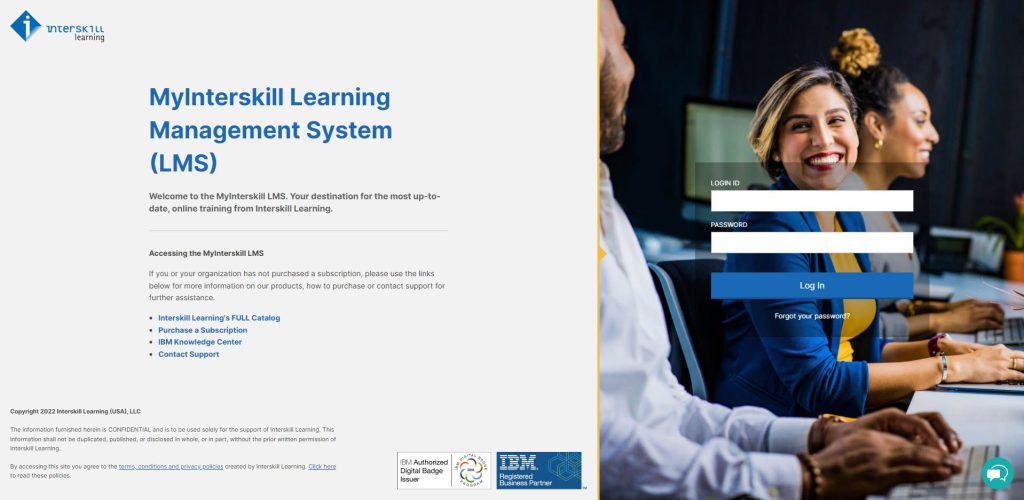 For Mainframe Professionals
The MyInterskill LMS immersive learning platform, designed to make learning easier, more accessible, and more effective. It increases employee's engagement, confidence and skills, and makes a real and measurable impact on your organization's success!
Features for Learners
Easy to Use: Learners can begin training in minutes with an intuitive user-friendly interface.
Quickly enroll and drop courses with easy toggle on/off controls.
Notifications inform learners of courses and digital badge/certificate completions, training reminders, courseware updates and the latest news.
Training dashboard gives you instant stats on your training progress
Improved Digital Badge and Learning Plans interfaces gives you instant stats of your progress and easily see where to proceed.
IBM Professional Certificates available in March. Comprehensive and trusted benchmarks of IBM Z mainframe computing proficiency in key mainframe computing job roles and are recognized by the global mainframe computing industry.
Digital Badges and IBM Professional Certificates are issued instantly once a learner has completed the requirements.
Visual reporting on all aspects of the learner's training progress.
Quickly pick up where you left off with bookmarking and an improved interface guides you to next module once you complete a module.
Learners can access Interskill Learning's job role based learning plans designed by subject matter experts.
Learners can also access a company's custom learning plan designed by the organization's training administrator.
Ask a Mentor: If your organization has assigned you a mentor, you can quickly send them a message from the home page.
Interactive Help articles are available throughout the LMS.
Contact an Interskill Learning Consultant any time using the help section.
For Mainframe Organizations
Features for Management
Scalable system that allows thousands of users all over the global.
Customize the home page for your learners with your organization's logo and informational text.
Create and manage learners
Create custom learning plans for learners with an interactive drag and drop course manager.
Built-in and Custom notifications alert you on learner's progress and activity.
Organization's dashboard will keep you in the loop of your learner's training progress and account stats.
Access to the Class and Webinar Developer Resources
Access to the Sandbox Exercise Labs Resources
Ask a Mentor: You can assign mentors to your entire organization or individually per learner. Learners can quickly ask a mentor via email message directly from their home page.
Comprehensive training analytics. Track your training efficacy and employee progress and gain contextual insights, with confidence your data is secure.
Receive periodic learner usage reports via email or secure document sharing with our Custom Report Scheduler.
Easily export reports to Excel, PDF or comma delimited text files.
MyInterskill LMS Technical Attributes
Platform & Security
The LMS platform uses the latest in redundancy and performance technologies with security and data privacy in mind.
We are compliant with General Data Protection Regulation (GDPR)
We have uptime of 99.9% or higher for both our website and our application.
All data sent to or from MyInterskill is encrypted in transit and at reset
MyInterskill enforces password complexity standards
Multi-Step Authentication is required for all administrative accounts and optional for leaners.
Improved connectivity methodologies that reduce user disconnects during training.
Interskill Learning implements a protocol for handling security events which includes escalation procedures, rapid mitigation and postmortem.
Interskill uses third party security tools to continuously scan for vulnerabilities aligned to OWASP and OSSTMM testing methodology. Yearly we engage third-party security experts to perform detailed penetration tests on the MyInterskill application.
Can handle international characters throughout interface.